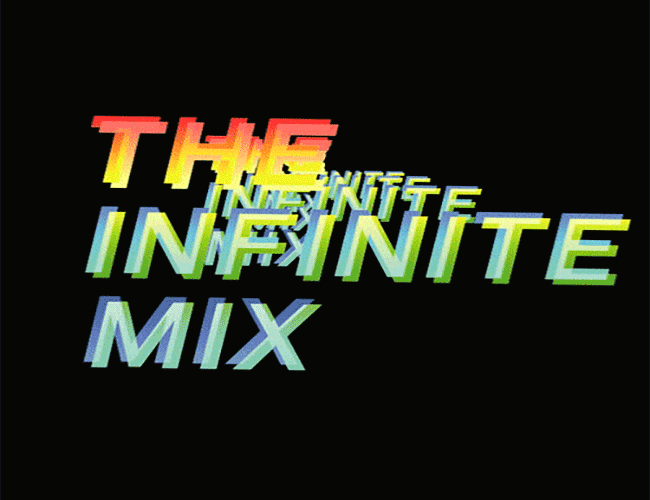 #theinfinitemix
A Hayward Gallery off-site exhibition presented
in collaboration with The Vinyl Factory at The Store, 180 The Strand.
*Exhibition extended* Friday September 9th - Sunday December 11th
Tuesday to Saturday, 12pm – 8pm
Sunday, 12pm – 7pm
Free entry
about
"A wonderfully various show - mesmerising" - The Observer
"Somewhere art has never been before" - The Sunday Times
✭✭✭✭✭ "A contender for show of the year" - The Evening Standard
✭✭✭✭✭ "Ten of the most engaging pieces of visual art you'll see together all year" - TimeOut
✭✭✭✭ "It's hard to imagine a more exhilarating exhibition" - The Telegraph
✭✭✭✭ "A weird, wonderful assortment of videos' that 'dances madly with big ideas" - The Guardian
The Infinite Mix: Contemporary Sound and Image brings together audiovisual artworks that are soulful and audacious in their exploration of a wide range of subjects. In all of the works in this exhibition the interplay between moving image and sound is crucial. Most of the artists have composed, commissioned or remixed soundtracks that relate to the visual element of their work in unexpected ways, and ensure that what you hear is just as important as what you see.
The Infinite Mix includes works that address tumultuous histories and cultural tensions in ways that are thought-provoking as well as deeply entertaining. They also pointedly remix our notions of history and fiction, the real and the staged, and the sublime and the everyday. Drawing on varied genres including documentary filmmaking, music video, experimental film and theatrical performance, these artworks dispense with straightforward storytelling and unfold in a manner akin to musical compositions. Together, they expand the ways in which we experience moving images and sound, and open up new veins of meaning in art's potentially 'infinite mix.'
THE SPACE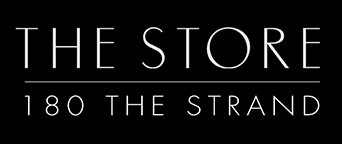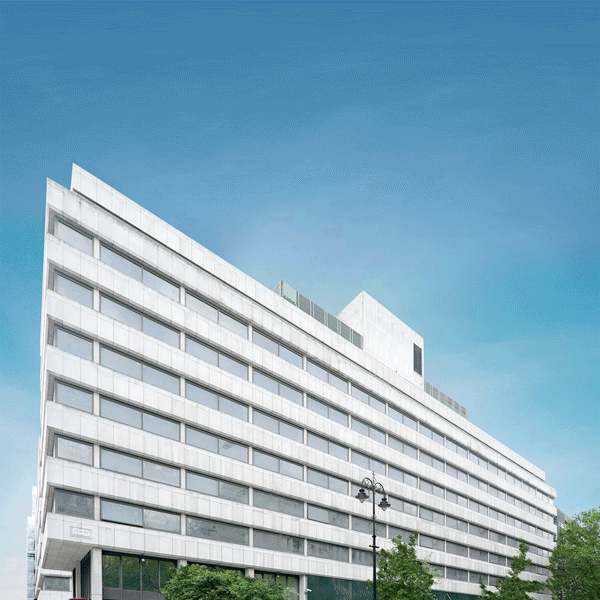 Having originally launched at Soho House in Berlin and London Fashion Week, The Store is now expanding with the opening of this creative space and complex of 10 studios, which house a mix of creative companies including Dazed Media, The Vinyl Factory, The Spaces and FACT magazine, all of whom will share the broadcast studios.
The studio spaces launched this September with the opening of The Infinite Mix, with each of the ten immersive artworks showcased in their own studio. The building also includes The Store organic cafe, retail and creative space featuring exclusive collaborations made with the artists in the show.
The space has previously hosted exhibitions including The Moving Museum, Lazarides presents Brutal and Louis Vuitton Series 3, as well as London Fashion Week Men's and fashion shows by Roksanda Ilnic, Christopher Kane and Thomas Tait.
"The future of all space is both the physical experience of being in that space and broadcasting that experience to the world," says Alex Eagle, Creative Director of The Store.
artists
Martin Creed - Work No. 1701 (2013)
Work No. 1701, 2013 © the artist
Courtesy the artist, Hauser & Wirth and Gavin Brown's Enterprise, New York
Martin Creed - Work No. 1701 (2013)
Martin Creed's work often focuses on a single movement or gesture. In Work No. 1701 a range of individuals cross a New York street, accompanied by a jubilant pop song written and performed by the artist. Talking about the film, Creed has commented that 'doing things in life, living and working, is always using your body', and that 'life can look like a dance'. Work No. 1701 is a celebration of the act of getting from A to B, as well as the different ways in which people move through the world.
Creed, who has been writing songs and leading a band for over 20 years, describes his music and his visual work as an 'attempt to make something for the world'. As he explains, they both stem from the same place: the desire to 'say hello, to try to communicate somehow.'
Stan Douglas - Luanda-Kinshasa (2013)
Luanda-Kinshasa, 2013 © Stan Douglas
Courtesy the artist, David Zwirner, New York / London and Victoria Miro, London
Stan Douglas - Luanda-Kinshasa (2013)
Shot like a documentary film on a set carefully crafted to resemble a legendary New York recording studio, Stan Douglas's Luanda-Kinshasa depicts a fictional 1970s jazz-funk band engaged in a seemingly endless real-time jam. The band's music echoes the then-current confluence of American jazz, funk and Afrobeat – a musical fusion made possible, as the video's title indirectly implies, by the emerging independence and rising profile of African nations.
As the camera appears to seamlessly circle around the studio, the sound mix highlights whichever musician it lingers on, enhancing the impression that we are watching a live performance. But the band's improvisation is actually a construction: intricately remixed by Douglas in the editing room, it extends through over six hours of 'alternate takes' created by recombining various shots and accompanying sections of music. Conjuring a never-ending sequence of variations, Luanda-Kinshasa conjures a vision of culture as a potentially 'infinite mix.'
Jeremy Deller & Cecilia Bengolea - Bom Bom's Dream (2016)
Jeremy Deller and Cecilia Bengolea Bom Bom's Dream, 2016 © and courtesy the artist
Jeremy Deller & Cecilia Bengolea - Bom Bom's Dream (2016)
Jeremy Deller and Cecilia Bengolea's Bom Bom's Dream follows the fantastic adventures of a Japanese dancer known as Bom Bom – celebrated for her gymnastic, slapstick dance moves – as she travels to Jamaica to participate in the local dancehall music scene. With its low-fi special effects and fantasy sequences, the video is a cross-cultural, contemporary equivalent to Alice in Wonderland. Like many of Deller and Bengolea's individual works – not least Deller's 2006 film on the international fan base of the English electronic band Depeche Mode – Bom Bom's Dream explores the social character of rituals related to popular music. It is the second film that Deller and Bengolea have worked on together, and features an original soundtrack by Deller.
Jeremy Deller and Cecilia Bengolea's Bom Bom's Dream is co-commissioned by Hayward Gallery, 32nd Bienal de São Paulo and The Vinyl Factory, and co-produced by Thyssen-Bornemisza Art Contemporary with support using public funding by Arts Council England.
Cyprien Gaillard - Nightlife (2015)
Nightlife, 2015 © Cyprien Gaillard
Courtesy the artist and Sprüth Magers
Cyprien Gaillard - Nightlife (2015)
Cyprien Gaillard's 3D film and audio installation Nightlife was shot at night over a period of two years in Cleveland, Los Angeles and Berlin. Like much of Gaillard's work, the film is a meditation on the ways in which traumatic events of recent history can be read in – or have been memorialised by – urban or 'natural' landscapes, architecture and public space. Accompanied by a dub soundtrack featuring a looped sample of Alton Ellis's 1970 classic 'Black Man's World' and the 1971 remake 'Black Man's Pride', the film takes in a bomb- damaged sculpture in front of the Cleveland Museum of Art; the riotous swaying of windblown trees in dark LA streets; and a fireworks display above Berlin's Olympiastadion.
The final scenes return to Cleveland, where the German oak tree gifted to African-American gold-medallist Jesse Owens by Nazi organisers of the 1936 Olympic Games stands in the courtyard of the athlete's former high school. Despite being comprised of two time-based mediums – film and music – Nightlife has distinct sculptural qualities. The vacillating volume and reverb of the film's dub soundtrack conjures a shifting sonic space that mirrors the ghostly materiality of the film's 3D visuals.
Dominique Gonzalez-Foerster - OPERA (QM.15) (2016)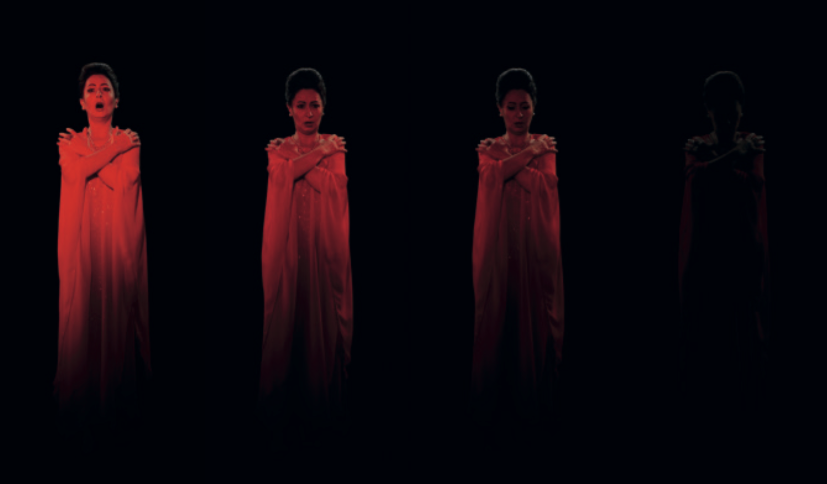 © DACS, 2016. Courtesy the artist and Esther Schipper, Berlin
Dominique Gonzalez-Foerster - OPERA (QM.15) (2016)
In the holographic illusion OPERA (QM.15) Dominique Gonzalez-Foerster appears in the guise of legendary soprano Maria Callas (1923–77). Dressed in the singer's signature red dress and dramatic makeup, the artist lip-syncs to arias from Cherubini's Medea, Verdi's La Traviata and Ponchielli's La Gioconda. Situated at the end of a derelict corridor, and encountered from a distance of 30 metres, the luminous figure is at first startlingly life-like – an impression reinforced by the strength of Callas's voice.
OPERA (QM.15) is influenced by the development of photography, early cinema and the interest in the uncanny shared by many 19th-century artists and writers. It is related to a larger body of work that Gonzalez-Foerster began in 2012: an ever-expanding 'fragmented opera' consisting of live and recorded performances in which she appears as a range of fictional or historical figures. To Gonzalez-Foerster, each performance – including her turn as Maria Callas – is not theatre, but rather 'a kind of séance.'
Cameron Jamie - Massage the History (2007–9)
Massage the History, 2007–09 ©Cameron Jamie
Courtesy the artist and Gladstone Gallery, New York and Brussels
Cameron Jamie - Massage the History (2007–9)
Cameron Jamie has described his films as 'a way to visit hidden worlds within our world.' In Massage the History, the artist combines footage of young men in Alabama performing an erotically charged, provocative dance with living-room furniture in middle-class homes, with found footage of violent or surreal events filmed in anonymous American suburbs. In the resulting hallucinatory collage, it is difficult to distinguish where one world ends and the other begins.
The soundtrack to Massage the History is provided by a Sonic Youth track of the same name, from their 2009 album The Eternal. This hypnotic track, which replaced the hip-hop that the young men originally danced to, features vocals by Kim Gordon that Jamie describes as resembling 'a voice from another dimension.' As Jamie explains, the track helped to 'refine and punctuate' the film, which was shot and re-shot over a number of years using a variety of different formats, including 35mm film and the cameras of several mobile phones.
Kahlil Joseph - m.A.A.d (2014)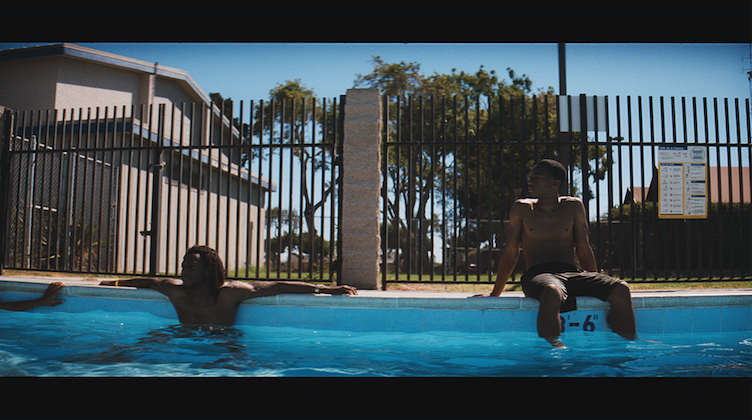 Kahlil Joseph m.A.A.d., 2014 © and courtesy the artist
Kahlil Joseph - m.A.A.d (2014)
Alternately intimate and epic, Kahlil Joseph's dual-screen film installation m.A.A.d. brings together a range of source materials to create a prismatic portrait of the people and streets of Compton, a working class and largely African-American neighbourhood in Los Angeles. Made in response to Kendrick Lamar's 2012 album good kid, m.A.A.d city, Joseph's work incorporates home videos shot by the singer's uncle in 1992, with news footage of police violence, and his own footage featuring scenes that veer from everyday life to magical realism and the macabre.
For his soundtrack, Joseph remixed alternate takes from Lamar's recording, distorting and cutting them in ways that augment the unexpected rhythms of his picture editing. With Lamar's lyrics at times serving to provide pointed bursts of narration, the interplay between image and sound elaborates a complex, original and compelling vision of a contemporary African-American community.
Elizabeth Price - K (2015)
Elizabeth Price K, 2015 © and courtesy the artist
Elizabeth Price - K (2015)
In this two-screen video installation Elizabeth Price brings together disparate elements – text, image, synthetic voice and a stark, percussive soundtrack – in a dense and complex exploration of collective emotion, performance and mechanised production. A ghostly stop-frame animation of the sun – created from thousands of glass plate slides taken between 1870 and 1948 – plays continuously on one of the two screens. On the other, a hypnotic CGI animation of the production of nylon stockings, each packaged under the brand name 'K', is interrupted or accompanied by footage of dancing performers, including 1970s country singer Crystal Gale.
Binding these visual elements together is a narrative composed by Price and attributed to the Krystals, a fictional group of 'professional mourners'. The synthetic voice – created using text-to- voice technology – describes the group's highly ritualised practice, noting that 'as sorrow has increasingly become contingent to all public and social affairs, any occasion of significance requires its proper acknowledgement.'
Rachel Rose - Everything and More (2015)
Everything and More, 2015 © Rachel Rose
Courtesy the artist, Pilar Corrias, London and Gavin Brown's enterprise, New York
Rachel Rose - Everything and More (2015)
In Everything and More, US astronaut David Wolf narrates his experience of looking down on Earth from space and the sensory disorientation he experienced on his return. Accompanying Wolf's disembodied narration is a visual collage that mixes galactic imagery with scenes shot in a neutral buoyancy laboratory where astronauts prepare for zero gravity, and footage of ecstatic crowds at an electronic music concert.
The film's galactic scenes were achieved with basic materials: milk, food-colouring, oil and water manipulated with an air compressor. In Everything and More, the micro and the macro, the sublime and the ordinary, are treated in much the same way: 'as all, essentially, material.' By projecting the film onto a fabric screen against a vinyl-covered window – which during the projection becomes alternately opaque and transparent – Rose creates subtle shifts in perspective and a form of sensory disorientation that brings us closer to Wolf's own.
Ugo Rondinone - THANX 4 NOTHING (2015)
THANX 4 NOTHING, 2015 © Ugo Rondinone
Courtesy the artist, Galerie Eva Presenhuber and Barbara Gladstone Gallery, New York/ Brussels
Ugo Rondinone - THANX 4 NOTHING (2015)
Ugo Rondinone's immersive video installation features legendary beat poet John Giorno performing THANX 4 NOTHING. In this poem written on his 70th birthday, Giorno looks back at his life – and the people and events that shaped it – with humour and compassion. Performing in a tuxedo and bare feet on an empty stage in the Palais des Glaces theatre in Paris, as well as in a brightly-lit TV studio, Giorno gives thanks to 'everyone for everything,' before speaking frankly on the death of friends and lovers, sex, betrayal and his frequent periods of depression.
Rondinone's carefully choreographed multi-screen installation – which features long shots, intimate close ups and passages of high-speed editing – keeps pace with Giorno's theatrical delivery and draws attention to the poem's many rhetorical twists and turns.
PARTNERS



An independent British music and arts enterprise, The Vinyl Factory collaborates with artists and musicians to create boundary pushing audio-visual experiences. Founded in 2001, the group encompasses a record label, vinyl pressing plant, gallery spaces, record shop and music magazine. The Vinyl Factory's space at Brewer Street Car Park has staged large-scale shows by artists including Ryoji Ikeda, Ragnar Kjartansson, Carsten Nicolai, Conrad Shawcross and Richard Mosse. The Vinyl Factory record label roster includes Massive Attack, Dinos Chapman, Florence + the Machine. Christian Marclay, Pet Shop Boys, Martin Creed, Bryan Ferry, Eddie Peake, The xx, Maurizio Cattelan, Roisin Murphy and Jeremy Deller. The Vinyl Factory has worked in partnership with leading arts organisations including: the Venice Biennale, Art Basel, Frieze, Barbican, Whitechapel Gallery, Serpentine Galleries and White Cube.




The Hayward has a long history of presenting work by the world's most adventurous and innovative artists. Opened by Her Majesty, The Queen in 1968, the gallery is one of the few remaining buildings of its style. It was designed by a group of young architects, including Dennis Crompton, Warren Chalk and Ron Herron. Hayward Gallery is named after the late Sir Isaac Hayward, the former leader of the London County Council. Hayward Gallery has gained an international reputation for staging major solo shows by both emerging and established artists and dynamic group exhibitions in its 48 year history. Key exhibitions throughout Hayward Gallery's history have included early shows by Henri Matisse, Anthony Caro and Bridget Riley, as well as more recent monographic exhibitions featuring Martin Creed, Jeremy Deller, Tracey Emin, Antony Gormley, Anish Kapoor, and David Shrigley, as well as influential group exhibitions such as Psycho Buildings, Walking in My Mind, and Light Show. The Infinite Mix is Hayward Gallery's only major significant exhibition whilst the gallery for a two-year refurbishment project.




The UK's largest arts centre, the Southbank Centre occupies a 21­-acre site that sits in the midst of London's most vibrant cultural quarter on the South Bank of the Thames. The site has an extraordinary creative and architectural history stretching back to the 1951 Festival of Britain. Southbank Centre is home to the Royal Festival Hall, Queen Elizabeth Hall, Purcell Room and the Hayward Gallery as well as The Saison Poetry Library and the Arts Council Collection.
press
"The Infinite Mix is proof that video and film are the most consistently creative artistic fields of this century. It's a contender for the show of the year"
"You'll find ten of the most engaging pieces of visual art you'll see together all year. They're full of passion, innovation, love, cleverness and emotion"
~ TimeOut
"The Infinite Mix feels – believe me – like a total blast. Urgent, important, infectious, and fresh, it offers a compelling advertisement for the dynamic possibilities of this mercurial art form"
"A weird, wonderful assortment of videos' that 'dances madly with big ideas"
"Welcome to the intersection of sound and image, culture and class, theatre and screen, fact and fiction. While London's Hayward is getting a big refurb, the gallery's curator Ralph Rugoff has popped across the river to curate The Infinite Mix, a brilliant soundtrack-heavy show at 180 The Strand"
~ Dazed
"Sound and vision combine in The Infinite Mix to create a brilliant, funny, moving, weird art show, which shouldn't be missed"
"Terrific, immensly enjoyable and emotional"
"This blockbuster exhibits the creative versatility of moving image and sound in our post-Y2K age"
~ Frieze
"Forget your preconceptions of video art and get lost in music"
"A contender for show of the year"
~ i newspaper